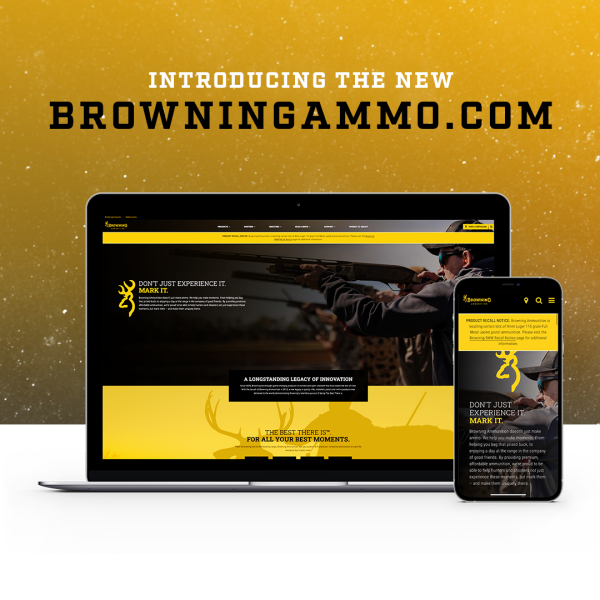 ARNOLD, Mo. – Browning Ammunition announces the launch of its newly redesigned BrowningAmmo.com. The digital property is a main destination for hunters and sport shooters around the world who are interested in the full line of Browning ammunition products.

Throughout the site, larger, more vivid imagery illustrates the Browning Ammunition lifestyle, while premium ammunition offerings are also highlighted. Customers can easily search for products that fit their needs. Products such as the new Silver Series rifle ammunition and Long Range Pro Hunter for big game, Wicked Blend™ waterfowl shotshells, TTS Turkey loads, and more will be featured at key times on the site throughout the year.

The new BrowningAmmo.com gives users a streamlined, accessible browsing experience to choose the products they want, find a shooting range or retailer, and connect with the iconic Browning brand. The site is also optimized for mobile devices.

"We understand the buying habits of our customers and the ammunition category can be very easy to navigate with a good digital experience," says Matt Campbell, vice president of sales and marketing. "The new website brings an easy and beneficial experience to people who want to learn about our products and then find the best location to make the purchase."
About Browning Ammunition
The Browning Ammunition portfolio includes popular ammunition offerings in rifle, shotgun, handgun and rimfire, featuring advanced technologies for hunters and shooters. Products are designed to the highest standards of innovation, precision and technology. This relentless pursuit for engineering excellence is precisely what has earned the Buckmark™ its honorable distinction: The Best There Is™. For more information, visit www.browningammo.com or email media@browningammo.com.
Browning Ammunition: Committed to Safe, Legal and Responsible Firearm Use
Browning Ammunition is committed to safe, legal and responsible firearm use. Browning Ammunition works with key groups like the National Shooting Sports Foundation on a variety of topics important to our industry, including training and education, and on specific programs such as Gun Owners Care and Project ChildSafe. Browning Ammunition will continue to support programs, organizations and individuals who promote hunting and shooting sports activities in a positive and responsible environment. Any use of firearms by youth participants should be done under the direct supervision of a parent, guardian or other responsible adult.
About Gun Owners Care
Gun owners care. You care about safety. You care about preventing unauthorized access to firearms. You care about bettering your community, and helping those in need, and conserving wildlife and wild places for generations to come. It's time for gun owners to tell their stories, to show how they're making a difference. NSSF®, the trade association for the firearms industry, has established the Gun Owners Care campaign to unite gun owners and the firearms industry in this common cause. Visit gunownerscare.org for more information.