The best way to start a new year is with a fresh handgun. My year began with one of Girsan's new Hi Power pistols, the MC P35 PI, or "Private Investigator." "What," you ask, "is special about another Hi Power?" The PI is a "shorty;" the barrel is almost an inch shorter than a traditional Hi Power.
One of the most sought-after versions of Browning's iconic Hi Power design was the "Detective" model, a short-barrel "Browning" produced by FM of Argentina. It had a one-inch shorter barrel/slide on top of a traditional size frame. FM also sold conversion kits with shortened slide, barrel and other necessary parts to convert your Hi Power into a "Detective" model. Unfortunately, the Detective was only produced for a short time. (Companies like Cylinder & Slide have since been cutting down standard Hi Powers to build custom "detectives."). Now, Girsan is producing the MC PC35 PI, or "Private Investigator," a short-barrel Hi Power, which is being imported into the U.S. by EAA.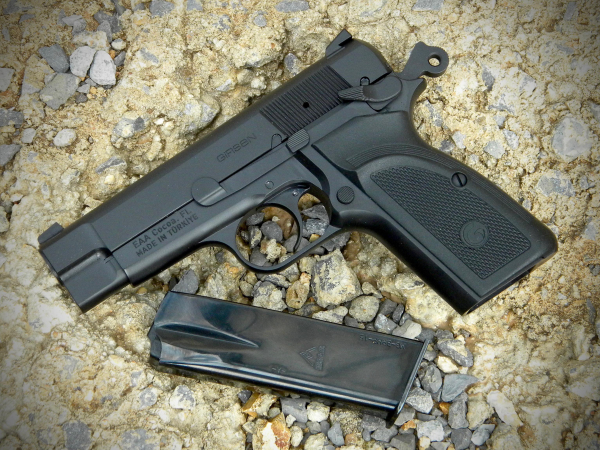 Girsan, located in Turkey, has been producing quality firearms since the mid-90's, exporting them to over fifty countries. They manufacture shotguns, a variety of steel frame pistols based on the 1911 and Beretta 92 and polymer, striker-fired pistols. Since Browning ceased production of the Hi Power in 2018 – although they're now offering an upgraded model - several companies have stepped in to fill demands for Hi Powers. Girsan released their first version of the Hi Power in 2021. They've continued developing, and have several different versions of their MC PC35 Hi Powers, including a red dot sight option. The most recent addition is the PI.
Girsan's shorty uses a traditional size Hi Power frame, but with a 3.88" long barrel vs. the traditional 4.87" barrel. Overall length is 6.25". It comes with a Mk III style ambidextrous thumb safety, similar type stocks and a Commander-style "ring" hammer. The current model retains the original design's magazine disconnect; the pistol will not fire without a mag locked in place. (Blame this one on the French military's "demands" that this feature be included in the design.). The adjustable dot sights - white, not tritium - are set in dovetail slots cut into the slide. The P.I. comes with a factory supplied Mec-Gar magazine – can't go wrong there – that holds fifteen rounds.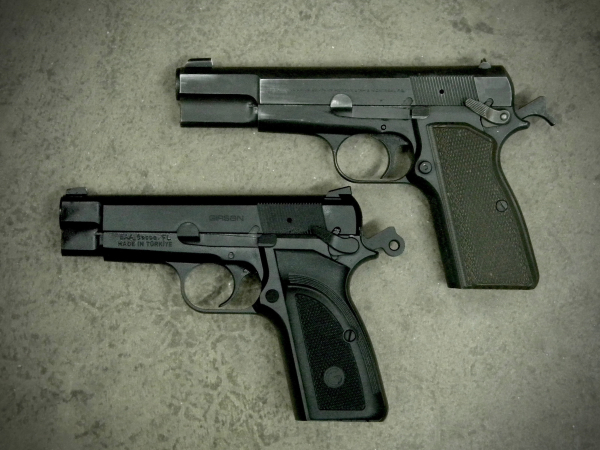 The Hi Power is a great pistol and has served with distinction around the world in every type of environment and application. With a few modifications, which is standard for any military-style handgun, it's ideal for concealed carry. It's got reliability, accuracy and the double stack mag carries plenty of rounds. Girsan's short-barrel PI makes the HI Power even more attractive for defensive carry. The shorter barrel/slide is easier to conceal, and clears the holster just a little sooner during the draw. The PI pistol weighs in at 1.6 pounds, more than three ounces lighter than a full-length Hi Power. While these differences in length and weight compared to the original's specs might seem slight, there's a noticeable difference when the pistol is carried all day, every day.
In Part II of this review, we'll get into the "guts" or internals of the PI. While the frame and lower parts will be familiar to Hi Power shooters, the upper components are a little different. For Part III, we'll take it to the range to report on function and accuracy. Stay tuned.
Tiger McKee is director of Shootrite Firearms Academy. He is the author of The Book of Two Guns, AR-15 Skills and Drills, has a regular column in American Handgunner and makes some cool knives and custom revolvers. www.shootrite.org or visit Shootrite's Facebook page for other details.