And now, the conclusion of our three-part review of the new Girsan short-barrel MC P35 PI Hi Power. Range day for the "Private Investigator." This is the exciting part of testing a new gun, revealing its reliability and accuracy – the two most interesting characteristics of any firearm. Plus, you discover how the pistol "feels" in action. And, sometimes you get to experience that "gut feeling" that says, "This is a good pistol."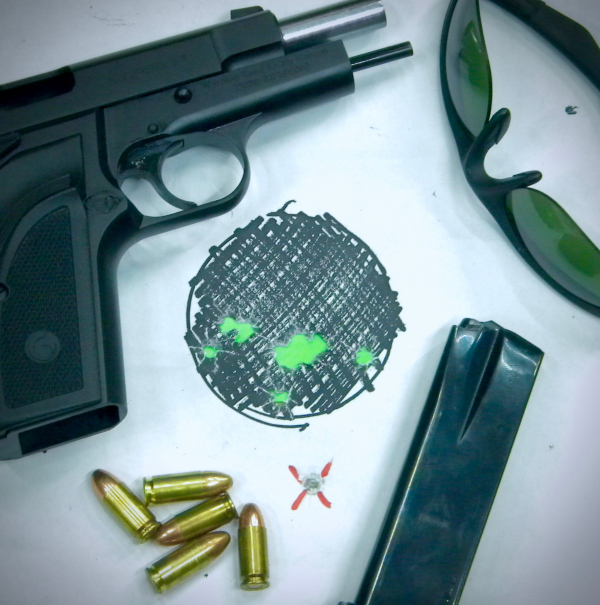 Reliability
Reliability is the first test for a new firearm. A clean, freshly oiled gun with quality ammunition and magazines should function. (Factory recommended "break-in" periods and such do not apply.). To test reliability I gather all my "trash" ammo - various rounds that were picked up off the range, emptying out the dusty cardboard box full of unknown ammo in the shop and the questionable stuff laying on the floorboard of my truck. I stir it all up, and load magazines. After all, a defensive pistol shouldn't be finicky. There might be times when your "favorite" ammunition isn't available.
The Private Investigator passes the "trash-ammo" test with flying colors. It ate everything that was jammed into the magazines with no malfunctions. It also displayed very consistent extraction and ejection. The empty cases landed into a one-foot square area about seven to eight-feet from the shooter at 4 o'clock. Perfect.
Accuracy
Reliability is mandatory. Accuracy is subjective. An accurate defensive pistol might not be up to firing tiny groups during a bulls-eye competition. Under stress, with both you and the threat moving, accuracy is about placing hits in the proper locations of the threat's body. Defensive accuracy is more about what you can do as opposed to how tight a group your pistol will shoot.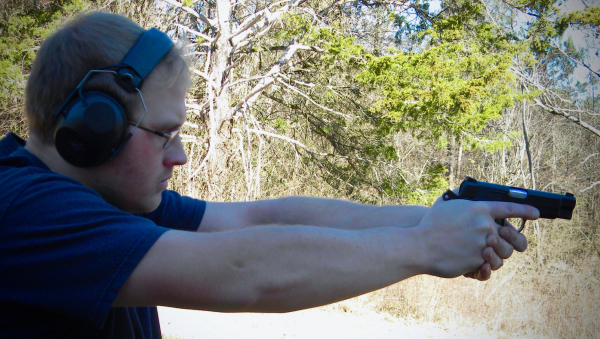 To test accuracy fresh factory ball ammo was used. If a pistol will group well with ball ammunition, you can usually expect improved precision with quality, defensive rounds. At seven yards, slow fire, the Girsan grouped well – minus one shot I called "bad" because of my trigger press. The group size was better than I normally get with more expensive pistols. And, like all Hi Powers, it's a pleasure to shoot. The P.I. actually seemed to recoil less than a full-length barreled Hi power.
At seventy-five yards I had to aim about a foot low, and slightly left to hit the torso target. Most people never fire at these distances. But there are enough documented situations that required long-distance pistol shots to solve the problem that it's a good idea to determine the difference between the pistol's point of impact compared to point of aim. The P.I.'s long-distance accuracy is up to that task, if you are. Eventually I'll adjust the sights to my eyes and shooting style, much like zeroing a rifle.
How can Girsan "improve" the P.I.? The user manual for the P.I. contains a hint of what is to come. It lists the spec's and parts of the P.I., but also has spec's and breakdown on a P.I. "Match" and "OPS" versions. These models are based on full-size Hi Powers Girsan offers. The dreaded magazine-disconnect has been removed, they come with a flatter trigger than the original style and fiber optic front sights. The frames have a beavertail on the grip, which positions the hand lower, eliminating the hammer and slide "bite" that's common with the Hi Power, especially with larger size hands. The "OPS" model has a section of rail on the frame for attaching a light/laser.
The P.I. is the first Girsan pistol I've handled. After inspecting it inside and out and spending time with it on the range, I can safely say it's not going to be the last. They're good pistols, with the right features at an affordable price. And, if you're thinking about a pistol build, the Girsan is a great platform for modifying – more on that later.
Tiger McKee is director of Shootrite Firearms Academy. He is the author of The Book of Two Guns, AR-15 Skills and Drills, has a regular column in American Handgunner and makes some cool knives and custom revolvers. www.shootrite.org or visit Shootrite's Facebook page for other details.