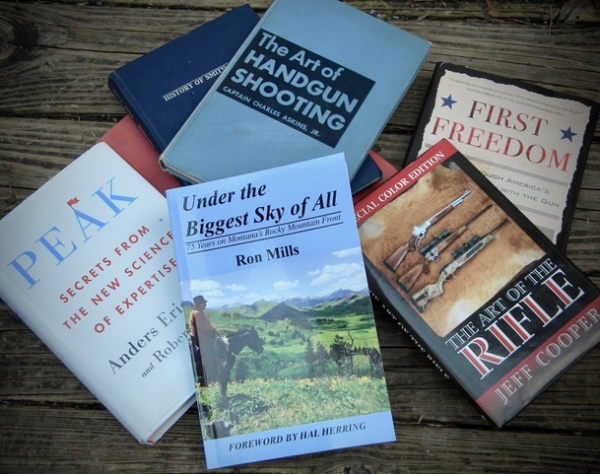 There's still plenty of winter weather coming, so it's not too late to pick up some reading material for those wet, cold days. Hopefully these suggestions will be enjoyable, and point you towards other subjects of interest.
I've said it before, and here it is again: Ready everything by Jeff Cooper. I pulled out The Art Of The Rifle for research on an article in progress. I found myself rereading the entire book. During a conversation with a friend I suggested it to a friend. Later he called to tell me it was "expensive," and it is. However, you might come across a copy somewhere for cheap. If so pick it up, and get hold of his other works while they are affordable.
Affordable is always good. When Gretchen and I travel one of our favorite pastimes is checking out used bookstores. Anytime I find "old" firearms books covering something like revolver/rifle shooting, gunsmithing or building knives I'll buy it. It's usually something I've never heard of, but it's "used" pricing. Maybe I'll only get one or two new ideas from these bargain books – which is worth it – or they'll mention another book that needs to be purchased. Same principle applies to yard/garage sells.
"I'm glad I grew up in a home with no electricity till I was seven and (with) no indoor plumbing, phone or TV till I was sixteen." So begins Ron Mills' book Under the Biggest Sky of All. Mr. Mills spent sixty hears packing and outfitting in the Bob Marshall Wilderness. After this much time working in the breathtaking wilderness of the Rockies, dealing with pack animals – often uncooperative – and the human characters involved Mills has some great stories to tell. And he tells them well, in a language that's simple, yet incredible descriptive and entertaining.
A good friend gave me First Freedom by David Harsanyi for Christmas (– thanks Bud). A Ride Through America's Enduring History with the Gun, is the best book I've found covering America's gun culture. A lot of the material I've read before, but not all, and Harsanyi does an excellent job of cover every angle on the history of the U.S. and the firearm, which have been woven tightly together from the very beginning. When I read something interesting in a book I mark the passage and turn down the corner of that page. This one is a real "page turner;" almost every corner is dog-eared, most with multiple areas highlighted. Buy yourself one, and get a couple to give as gifts.
One of my instructors turned me onto Peak: Secrets From the New Science of Expertise, by Ericsson and Pool. Ericsson has been studying experts, in a variety of fields, for three decades. "Peak" details the method of becoming great, outlining the mental strategy of creating your optimal performance. And a lot of the principles are counter to the ways people have traditionally thought about performance. If you're into the mental aspects of training and practice – which you should be – I highly recommend this one.
Remember, "reading is fundamental." We read to study and formulate the threat response. Sometimes reading is just entertaining; a well told story is always appreciated. And reading is a lot better way to spend your time as opposed to surfing social media. Plus, reading a great book is guaranteed to teach you something new.
Tiger McKee is director of Shootrite Firearms Academy, located in northern Alabama. He is the author of The Book of Two Guns, AR-15 Skills and Drills, featured on GunTalk's DVD, "Fighting With The 1911 and has regular columns in Gun Digest and American Handgunner.
http://www.facebook.com/pages/Shootrite-Firearms-Academy/156608611038230?ref=ts