There are a variety of ways to re-finish a firearm. Bluing is an old art. Parkerizing is a new process; it was first patented in the mid-1800's. One of the newest and easiest methods are "spray and bake" finishes. Paint the prepped metal, pop it into the oven for a while and get a good looking, durable and affordable finish.
I use Gun-Kote, by KG Industries. After years of providing dry film lubricants and thin coatings for aerospace, military and other industries they introduced their Gun-Kote finishes in 1998. Today they list a wide variety of products, including finishes that are perfect for firearms. The 1200 series is an air-dry product, perfect for plastics and materials that can't withstand the baking temps to cure. The NaNo series is Gun Kote's newest entry. The abrasive resistant coating exceeds all military and aero specs. This is a hard, flexible finish that protects from almost everything.
The 2400 series is what I use. It's a one-part finish; there's no measuring and mixing involved. Whatever you don't use goes back into the can for later, so nothing wasted. It's also easily repaired or touched-up. The final product is tough and resistant. According to their website, the 2400 series, "has an average particle size less than 10 Microns." This is 0.000393700787… of an inch. This means you can spray multiple coats, getting complete coverage without worry about buildup, which is critical with tight tolerances. Plus, again according to Gun-Kote literature, it's "guaranteed not to Chip Flake, Peel or Rust Creep." What I know is that Gun-Kote finishes work. They're affordable – always a consideration these days – simple and produce consistent, reliable results.
As with any finish, properly preparing your parts is mandatory. They have to be completely free of grease and oil. We have a religious system of degreasing, "gassing," which is baking it in the oven to expose/remove embedded matter, degreasing, washing until finally, blasting. Rushing this part of the process will only result in disappointment.
An airbrush is the best way to apply the finish on firearms. This way you can control the spray pattern for small nooks and crannies. I usually spray three coats. After painting it's into the oven for an hour at 325. You can't get much simpler than that.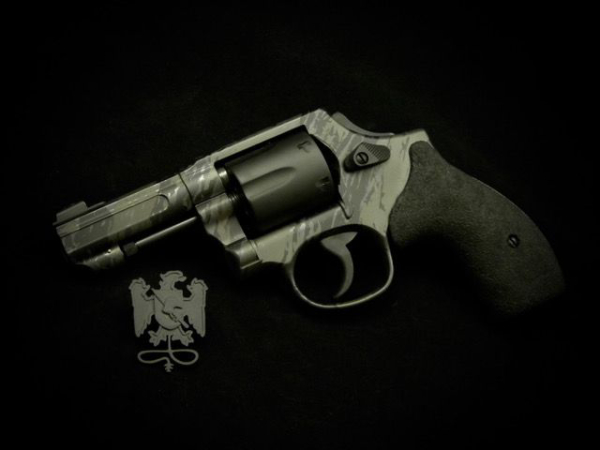 With these type finishes you're only limited by your imagination. There's a wide variety of colors in flat, mat and metallics, in case you need a little dazzle. Trying to spray a piece to match your Magpul FDE? No problem. Since you can spray multiple coats without buildup go ahead and lay down stencils to create your vision.
Sure, you're going to make some mistakes. But until you harden with heat you can use a little acetone to remove any blunders. After hardening you'll have to blast to remove the finish.
If you're not into D.I.Y. then it will be an easy job to find a certified shop to apply Gun-Kote, or any of the other brands out there with great reputations. Or, some prefer the newest hi-tech finishes, which are beyond the abilities of most of the smaller shops. One thing for sure, there's no reason to not be happy with how your weapon looks.
Tiger McKee is director of Shootrite Firearms Academy. He is the author of The Book of Two Guns, AR-15 Skills and Drills, has a regular column in American Handgunner and makes some cool knives and custom revolvers. Visit Shootrite's Facebook page for other details.