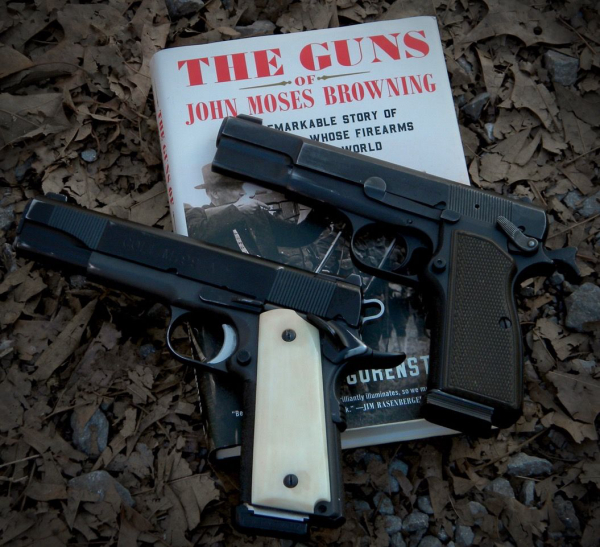 There's no doubt that John Browning was, and still is, the most influential firearms designer – ever. Yet, there's plenty of gun owners who are either completely ignorant of Browning's contributions to the world of firearms design or have little idea of the extent of his influence. The Guns of John Moses Browning: The Remarkable Story of the Inventor Whose Firearms Changed the World by Nathan Gorenstein provides a detailed account of Browning's life and work.
It's difficult to quantify Browning's work and its effects on the world. "His inventions between 1890 and 1900 changed how hunters hunted, how armies fought, how people protected themselves, how crimes were committed, what laws were passed, and how people were killed, the innocent and the guilty both." Pg. 93.
Winchester's Model 1885 lever action rifle was Browning's first commercial design, and it changed the industry. The 1886 was popular with hunters, lawmen and outlaws. His full-auto design presented to Colt in 1890 – it fired .45-70's - was the first to use gas pressure from the barrel to cycle the action. Browning is responsible for the pump-action shotgun. His patent for a semi-auto pistol – the first with a frame, barrel and slide was revolutionary. The 1911 – America's handgun – was his design. The Hi Power, released in 1935 and partly designed by Browning, became the pistol for the rest of the free world. When it came to full-auto military weapons Browning was the star, both on the ground and in the air.
Gorenstein gives us a glimpse into how Browning's mind worked. He designed completely in his mind. These "spatial visualization skills" included the ability to mentally rotate three-dimensional objects, "seeing" how various parts interacted from any angle. Only after the design was complete in his mind would he make a few rough sketches, which only he understood. Then he and his brother would begin fabrication of the various parts required for the design. Instead of blueprints Browning would present manufacturers with a working prototype. There would be final tweaks to the design to make it compatible with modern production methods, but very little was ever required to bring the firearm to market.
Today, it seems impossible that Browning, a man with very little official education, accomplished what he did. "So, a very, very conservative estimate – indeed, most certainly too low," Gorenstein informs the reader about production of Browning's designs, "is between 35 and 40 million firearms of all types." Pg. 279. Of course, this was a completely different time. An engineering degree wasn't required for men like Browning, Edison and others; they weren't hampered by the restrictions and constraints created by "modern" society. Browning's story should be an inspiration to all of us.
If you're interested in the history of America, its culture, industrial development and the critical role firearms and hunters have played in preserving our wildlife, this is a great read. If you're a fan of John Moses Browning – it's mandatory.
Tiger McKee is director of Shootrite Firearms Academy. He is the author of The Book of Two Guns, AR-15 Skills and Drills, has a regular column in American Handgunner and makes some cool knives and custom revolvers. Visit Shootrite's Facebook page for other details.