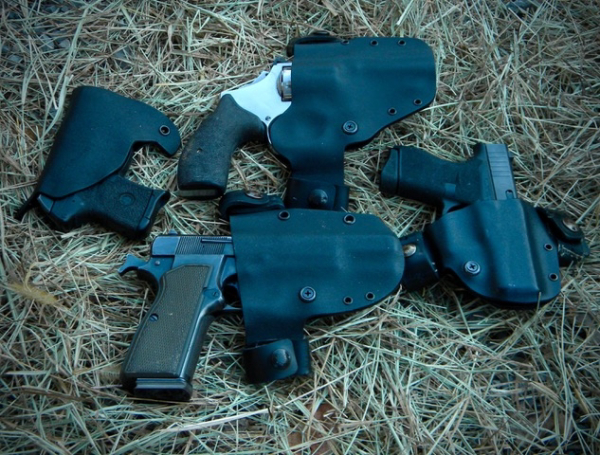 There are a ton of companies producing good kydex holsters. However, when possible I prefer to deal with smaller companies. I like supporting the "under dogs," especially those who have served in the military. Which brings us to Alan Miller, and his company, Aholster. When it comes to kydex gear this what I use and recommend.
I met Alan about fifteen years ago when he came to a class at Shootrite. I noticed his holster – a slim profile holster with snaps and loops so it could be taken on and off without undoing your belt. He asked if I'd be willing to test one out, and provide input on how it functioned. I got one for my 1911, gave him a couple of comments, and have been using his kydex gear ever since. There's even a "heavy duty" Shootrite version, with thicker kydex and a block for catching the sights on for single hand manipulations. (I don't receive anything from the sales; it's just a great holster.)
Alan produces gear for semi's and wheel guns, both outside and inside the waistband models. His pocket holsters are the best I've ever used; I carry them a lot. He also offers an OWB specifically designed for ladies. As Alan states on his website, "… many of the holsters out there are designed for men by men. The cold hard facts though; we were not created with the same body types (thank GOD)." There are a couple other designs, and Aholster's mag pouches are also "good to go."
Aholster's OWBs work great on the range and for concealed carry. As mentioned above the OWB is very slim, in fit and profile. With an untucked shirt, sportscoat or sweater it conceals easily -- even with a full size 1911 or Browning Hi Power. The same is true for his revolver holsters. Slim fit, easy to conceal. They hold your weapon securely, and you won't need two hands to draw. There's just something about that "snick/click" you hear when drawing and holstering from a properly designed kydex holster that just lets you know, "Yep, this is a well-designed and constructed holster."
One of the major advantages of dealing with small shops is the ability to actually speak with someone about their gear prior to placing an order. It drives me crazy when I call a company to ask a couple of technical questions, only to hear, "I don't know," and there's no follow up as in, "I'm not sure, but let me find out for you." With shops like Alan's you get to speak with the owner. And, if for some reason there turns out to be a problem Alan can't fix, his customer service is great -- so great he offers a 125% money back guarantee.
I use Aholster's gear. All Shootrite instructors use it – everyone buys their own. We've recommended Alan's gear to hundreds of students, and I've never heard a complaint. Again, there are a lot of companies producing kydex gear but, Alan's designs are spot on. Plus, he's a veteran, which with the upcoming holiday makes this even more appropriate.
(Next week - Jeff Cooper and the rise of the Modern Technique.)
Tiger McKee is director of Shootrite Firearms Academy, which is celebrating its twenty-fifth anniversary. He is the author of The Book of Two Guns, AR-15 Skills and Drills, has a regular column in American Handgunner and makes some cool knives and custom revolvers. Visit Shootrite's Facebook page for other details.