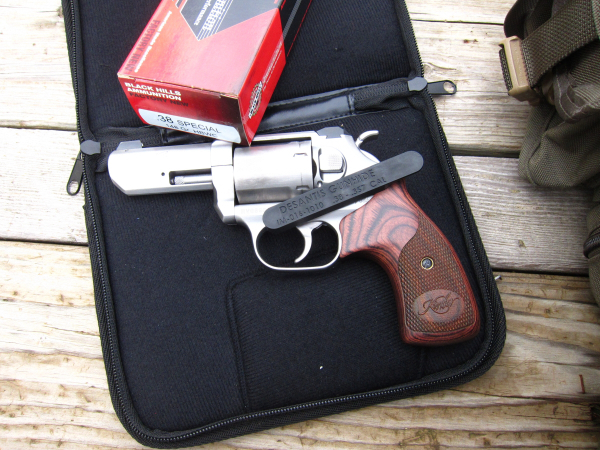 I've been surprised by the number of new revolver model releases by a number of companies. Stalwarts Ruger and S&W have continued and proliferated their lines, but other companies are crowding in.
A few years back, Kimber entered the fray with a strange looking revolver. It features an angular cylinder treatment; in place of (the necessary) cylinder flutes, there were flats. Easier to machine, cutting costs to manufacture, they still give the user a felt index to load without looking.
Why would you ever need to do that? First, if you're loading/reloading the gun operationally, you need to keep an eye out for trouble so you can close the cylinder wherever it's at and go to work. There are also times of diminished light, hampering your ability to see. To learn loading the revolver, by all means look – seeing the process helps early on. As you become adept, you need to get your head up and into the situation.
That's not all that's interesting about the new gun. It has sights you can see, a push-button cylinder latch and a slick action. The first guns were featured with hidden hammers, which is fine. Now, Kimber has released their K6S with a three-inch barrel, heavy profile, and an exposed hammer spur.
The gun shipped in a nylon pouch, inside a box. Where the magazine would be for a Kimber EVO SP semi-auto pistol, there was a DeSantis Swift Strip "speed loader," a nice touch. The gun weighs around 25 ounces empty, measures just over 7 ½ inches long and is around 1.4" wide. Like the name implies, the K6S is a six-shot revolver chambered in 357 Magnum.
It's fabricated of stainless steel and has a brushed finish. The backstrap features serrations and the stocks are of walnut. They're long enough for a whole hand grip, but thin enough the gun squirms in recoil. They allege the trigger should weigh in at 9 ½ - 11 ½ pounds, but you can't prove that by me. It's slick and non-stacking.
How about the single action trigger? Not sure, I haven't tried it yet. The gun has an MSRP of just under $950, putting it in premium revolver territory. Nothing I've seen so far indicates that it's not worth it.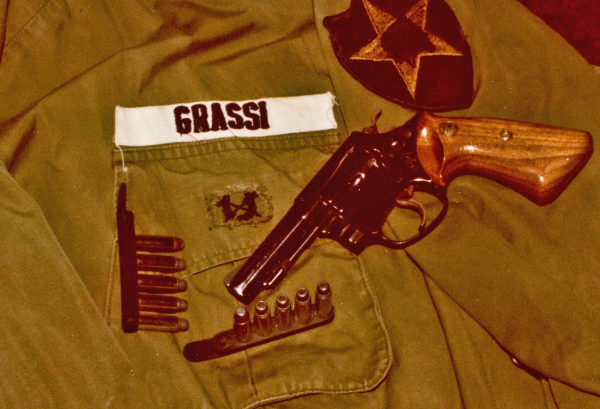 I've not completed work with the little cannon yet, but I've taken it on a few outings and have been able to make some conclusions as to its capabilities. First, I find it eerily reminiscent of the pair of S&W M36 Chiefs Specials I used to own –one blue and one nickel plated. Each had a three-inch heavy barrel, factory S&W "target" stocks on their square butts and J-frame wide "target triggers" I'd ordered from Gil Hebard Guns. They were light, handy, accurate and handled like a pair of full-sized M&Ps that someone left in the clothes dryer too long.
I've long regretted letting them go. Now I'm holding a modern analog, six rounds instead of five, better sights and actions and chambered in 357 Magnum.
"What a country!"
The first range outing, appropriately, was to the HR218-retirees' range for the Sheriff's Department. I met fellow instructor-retiree Myron Stucky and we took to appreciating the finer points of the revolver-maker's art.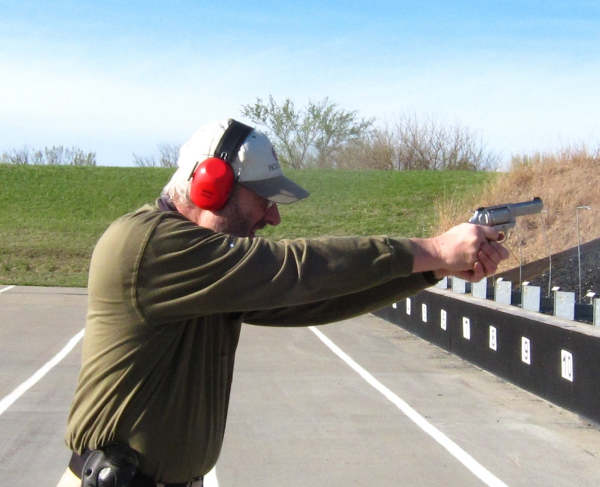 Myron shot it first, before me, with his ammo. I've never even fired the gun yet. The results? He stayed well inside the 'Q' back to 25 yards.
"The action's as good as on my (old) 686." He said the sights, trigger great, stocks are beautiful, but he'd change them for something larger.
Now it was my turn. I stapled a paper FBI-QIT 99 over a pre-shot "Q" target, loaded up with CCI-Blazer (aluminum case) 158gr round-nose lead ammo.
Shooting the state's mandated course with the little gun led me to a few conclusions. First, the stocks aren't really comfortable with the old service-style 38 loads – I considered 357s with some trepidation. I also found the stocks, attractive as they are, allow the gun to squirm a mite even with the relatively mild 38 loads. The lumber is thin too, so the gun hammered the proximal joint of the thumb of my dominant hand with the mild-shooting 38s.
The ejector rod is unnecessarily short. I couldn't regularly eject the aluminum empties even with muzzle skyward. It only dumped all the empties one time and that was at the end of the last stage.
As for the shooting, I allowed my concentration to lapse and I let two fliers 'leak' out of the bottle. They were near misses, inside the line of the state-mandated "Q," but I still called it 96/100.
There's more to my report, to be available soon on Shooting Wire, a companion service. If you're not subscribed, you should be – it's another way we try to keep you posted.
- - Rich Grassi