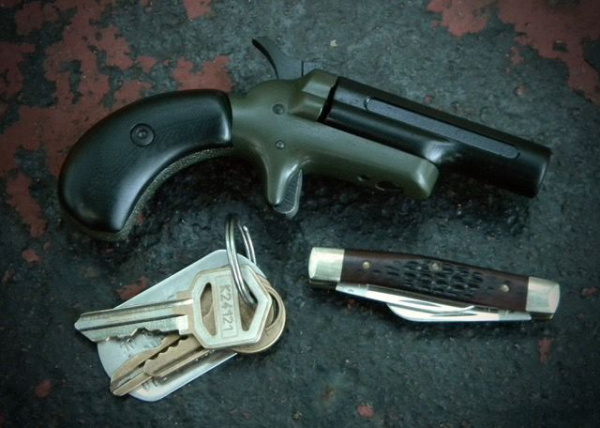 Last week, I covered the serious side of Deringers and small revolvers. The inspiration for that column was the decision to rebuild a Butler Arms .22 Short Deringer. Butler made this pistol for Colt off and on, and on their own. They're not really great pistols – the barrel is some kind of cheap alloy; rumor has it that even the .22 Short will wear the barrel out quickly. But this pistol has sentimental value – worthy of a make-over. It's also an easy rebuild, and a great way for beginners to dip into a D.I.Y. firearms project.
These little .22 Short Deringers are not expensive. A quick search on the interweb revealed several in the range of a hundred bucks. That's not a big investment for a "beginner's" project pistol. The design is simple; a couple of screw drivers is all it takes for disassembly. Plus, there's no tight-fitting parts with close tolerances. They're very forgiving. The final motivation for this project was "fun." With all the daily worries of life and the mayhem surrounding us it's nice to have a short, pleasant distraction.
Although there's not much to this pistol, I couldn't refinish it without a few modifications. At the bottom of the front of the grip there was a little hook to index your finger. For my hand size it wasn't positioned properly, so it was cut off. The grip was also stippled using a hand engraver.
The wood stocks didn't fit my hand either, and after cutting the grip down they weren't going to work anyway. A great excuse to make up a new set of stocks. I grabbed a small, scrap piece of ¼" G10 and went to work cutting and shaping. The hole in the frame the factory stock screw went through turned out to be the perfect size for tapping with #8 x 40 threads. Sure, this size screw is overkill for the purpose, but the hole didn't even need to be drilled before threading. Simple and easy. Another great thing about this build is size. You don't need a lot of room to work on a "mini" pistol.
The only modification that couldn't be done with normal hand tools is the slots milled into the sides of the barrel. This wasn't necessary, but they definitely set this Deringer apart from any other.
I had originally wanted to do a parkerized finish. The small parts parkerized well, but the barrel didn't have enough carbon in the "steel" to parkerize. Same was true for the frame -- plus the nickel coating is almost impossible to remove without using caustic chemicals. This is where modern "spray 'n bake" finishes like Gun Kote are valuable. These finishes are easy to apply, produce consistent results and are affordable. There are also companies that offer similar products available in spray cans. The frame was sprayed in Gun Kote's "Mil-Spec" O.D. green, with the barrel in their "Dark Flat" black.
A few hours later the Deringer is looking good, even maybe a little bit "tactical." (Probably more hours than I care to admit but, the purpose was a little bit of distraction and fun.). That's when disappointment hit. I searched the shop high and low, but couldn't find any .22 Short ammo – or a suitable pocket holster. I'll take care of that in the next few days.
Tiger McKee is director of Shootrite Firearms Academy. He is the author of The Book of Two Guns, AR-15 Skills and Drills, has a regular column in American Handgunner and makes some cool knives and custom revolvers. Visit Shootrite's Facebook page for other details.