I've been interested in firearms, personally and professionally since the mid-late 20th Century. In my day, most cops had revolvers in their holsters, the competition was largely bullseye – unless you were a cop doing the newfangled PPC thing. As far as auto pistol design, the heavy lifting was largely done by the early 1930s. There was nothing "new," even stuff that was … "new."
The changes went to application of the defense pistol. From revolvers and single action autos (primarily) on this side of the pond, the hammer-fired double action autos became a thing. The military moved from the 1911 service pistol and double action revolvers to the M9 and M11 – DA autos in 9mm. Coincidentally, an Austrian gent oversaw design and production of the first polymer striker-fired 9mm service auto that became generally accepted.
But we kept going back. I recall the attempt to configure the 1911 design with double stack magazines (the KZ-45 from Wilson Combat was one). There was Para-Ordnance. Then a polymer sub-frame under a steel receiver, slide and barrel – still with 1911 design features and components – in 9mm.
With such a device you could carry buckets of bullets … if you could get it to work.
Don't forget optics.
Put it all together and we're seeing the double-stack 9mm 1911 as a pricey alternative for a service pistol. What to do next?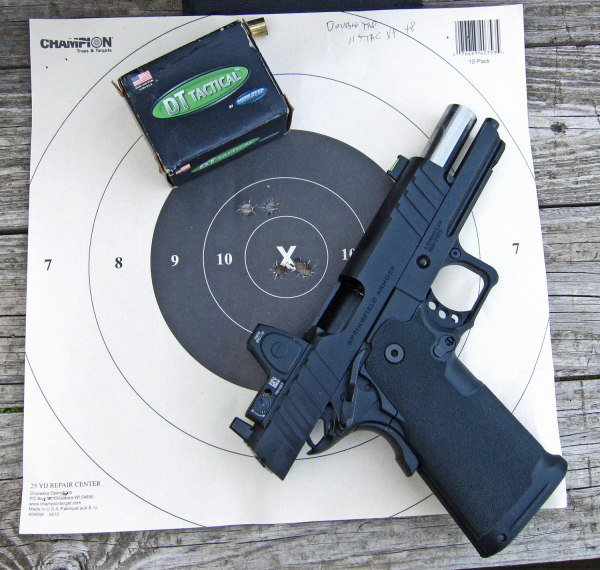 Produce something that works really well at a lower price point without losing the creature comforts? How about a DS1911 called the "Prodigy?"
From Springfield Armory – a company who cut its teeth on 1911 pistol production – we have the Prodigy. It's a 1911-pattern pistol with a double-stack magazine fitted up to a polymer grip frame module. The grip frame has Springfield's "360˚ Adaptive Grip Texture." The grip frame is fitted to the forged steel frame upon which rides the 4 ¼" barrel/slide unit. A five-inch model is also available; each are optionally available fitted with a HEX Dragonfly optic.
The metal finish is black Cerakote, the hammer is 'skeletonized.' There are slide serrations both front and rear and a green fiber optic front sight. As with the u-notch rear sight, the front is "optics-height." The shorter of the two, with the HEX optic, weighs in at 32 ½ oz. empty.
The cost? -- $1,699 MSRP with the HEX Dragonfly, $1,499 without.
That's a mite less than a similarly fashioned pistol of which we're all aware.
The Prodigy has a bilateral safety lever setup, a railed dust cover and it's (obviously) optics-ready from the factory. The gun doesn't have the original barrel/bushing plug arrangement, but a bull barrel, made from stainless steel. It has an 11-degree crown for accuracy.
As to optics, the company opted for the Agency Optics System. Partnering with Agency Arms, the mounting plates are made from billet 17-4 stainless steel.
Now for the magazine – there's a lot. The low-profile nearly-flush magazine holds 17 rounds – which I confirmed by loading it. A 20-round extended magazine is included. It actually holds 20 rounds too. Optionally, you can pick up some 26-round sticks.
Why all the ammo?
I'm seeing this as an issued- or authorized duty sidearm for cops. I sure don't have a lot of use for loads of ammo, but my objectives these days are different from just 18 short years ago. I no longer have to engage in "the laying upon of hands," seizure, arrests and transports. I no longer answer calls for service.
When I was on the road, this thing would have had considerable appeal. With 18 rounds in the holstered handgun, followed up by a pair of 20-rounders, that quarter of the county I had to patrol alone with the nearest support sometimes taking 30-45 minutes, would have been a bit less concerning.
I never needed that kind of ammo supply but I'm not sure I'd have complained.
Similarly, the high-round count competition games are fair for this new heater.
But does it work?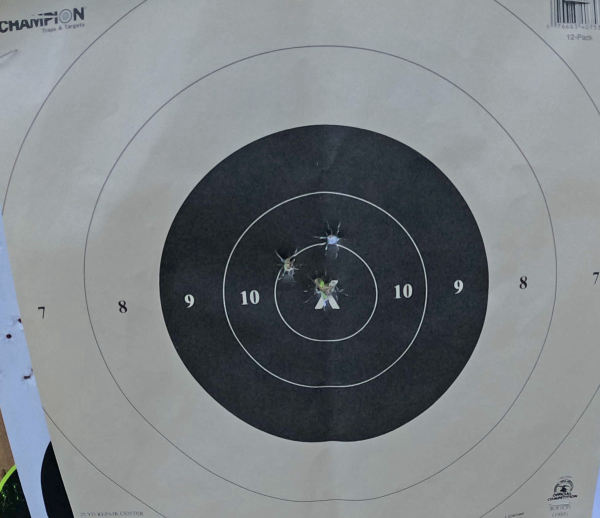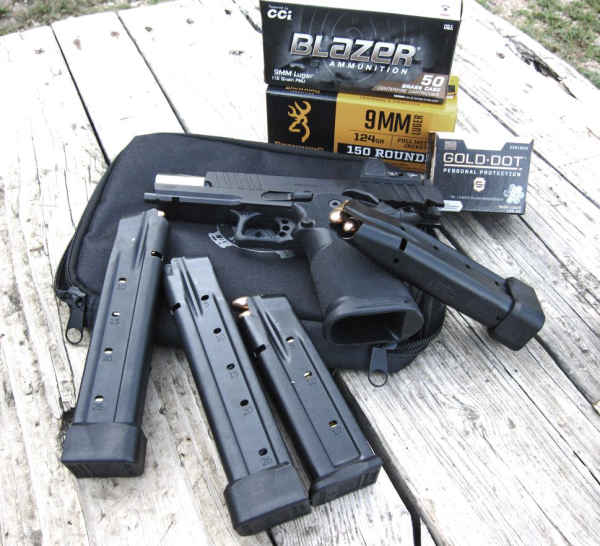 When it arrived, I opened a fresh 150-round box of Browning branded 124 grain FMJ (purchased from Academy Sports) and loaded the magazines that had arrived for the test. That included the standard roll-out of 17 and 20, plus a pair of 26-round magazines. I left them loaded until the next range trip.
I noted that they required no magazine loader to get filled up.
When I got to the range, I attempted to do an in-battery load with each magazine fully topped up. No sweat.
I was concerned about the 17-round magazine. It had a rattle when fully loaded regardless of the old "maxed-out mag" ammo seating tricks I tried.
The gun didn't notice. It just shot all the ammo over the protocols I'd set up. Without an appropriate holster, all work was done from low ready. The gun had arrived with a Trijicon RMR (RM 06) fitted to the slide.
When I saw that, I thought they'd prepared this thing to ride in a duty holster.
I began with a 20-round stick, from the bench at 10 yards just to check the zero – I didn't figure they'd zeroed it at the factory.
I was wrong. Three of the 124 grain FMJ bullets struck the "X" inside the X-ring. Two were in a higher orbit, both cutting the X-ring, one at 10 o'clock and one just after noon.
Anyone for accuracy?
I then proceeded to shoot "The Test." Contrived by Ken Hackathorn or Larry Vickers (I believe each as credited the other with its invention), it's ten rounds in ten seconds from ready fired at 10 yards on a B-8 repair center. I shot a 98/100 in just under nine seconds.
That's the first fifteen rounds I ever fired from this gun.
Afterwards, I tried a ten-yard Bill Drill on the same B-8 repair center. My time wasn't good, 3.92 seconds. There was a 7, an 8 and the rest were inside the 9-ring. I consumed the remainder of the pre-loaded magazines on an IDPA target. Times were slow. My grip is somewhat compromised and I'm just not used to this kind of gun. Some adult learners tend to visual acquisition, others are more auditory learners, but a few of us have a strong kinesthetic learning style.
With handguns, that's me. It's learnable – and I believe it is in a fairly short time frame. Still, the gun is nicely rendered and has the cleanest of triggers. It's a real joy to shoot.
And it works.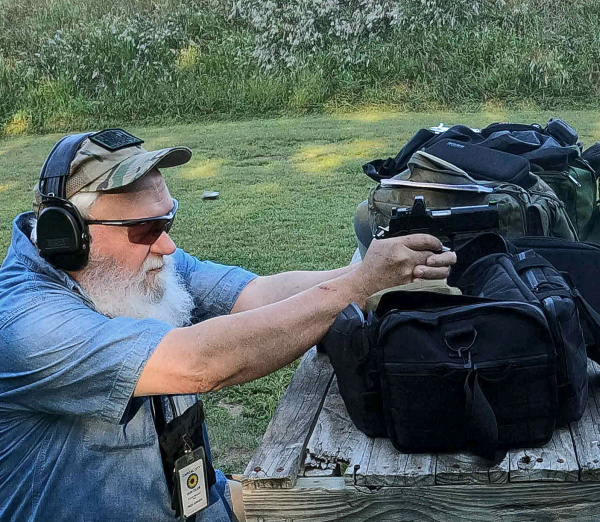 Going to the 20-yard bench, I shot groups with some recently received Speer Gold Dot Personal Protection 124 grain GDHP ammo and CCI Blazer Brass 115 gr. FMJ ammo (thanks to Federal/Speer!). I also tried groups with Hornady American Gunner 115 gr. XTP (a personal favorite of mine) and DoubleTap 115 grain Barnes TAC-XP +P ammo.
The Gold Dot went into 3 ½" vertically (that's a grip issue), with the best three into 1 ¾". The DoubleTap TAC-XP +P put five into 1 7/8", with three rounds going into ½".
The American Gunner yielded a 3" group (3 into 1 ¾") and the Blazer 115 went into 4" with a shooter induced flier – three of those shot into 2".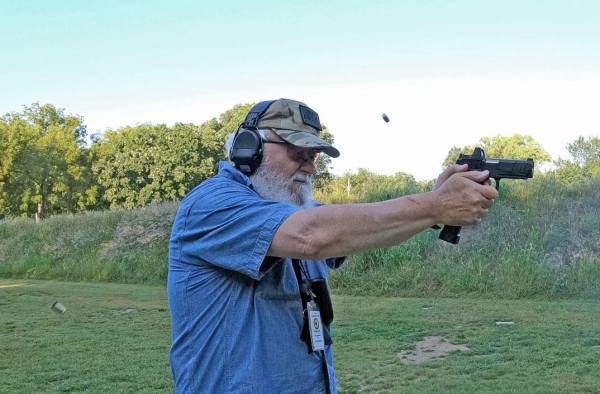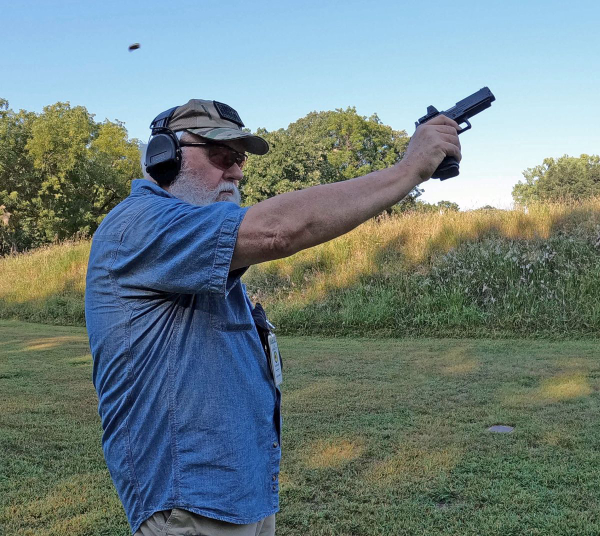 I elected to try 25-yard slow fire bullseye on a timed-rapid fire B-8 target. It's good I used the B-8, because one-handed I shot a 40/50 for the first five-shot string. The second string I shot two-handed and gained only three points more, giving me a score of 83/100.
That ain't the gun, but the shooter. Someone younger and more able would have easily shot into the 90s with this pistol and the Trijicon RMR – perhaps would have cleaned it.
This is a nicely made pistol. I'm thinking you'll see a lot more of it in the coming months.
-- Rich Grassi