A few months back John Howe, a good friend and fellow revolver shooter was training at Shootrite. We were talking holsters, specifically for revolvers and for those of us getting long in the tooth, along with the associated various hip/back/leg problems. I mentioned a couple of ideas I had been drawing up, so John took pictures and sent them to our mutual friend Skip Ritchie, of Ritchie Holsters (http://www.ritchieholsters.com). The result is Ritchie's newest design, one of the best pieces of leather I've ever worn, the "Gaylord Cross Draw", or GXD.
I've been searching for a holster that could be worn on the support side yet still allow me to draw the pistol with either hand. Even when young and limber I had problems drawing the pistol on my right side with the left hand. Today, there's no way this is happening. And, since hand and arm injuries are extremely common in fights, it makes sense to have access to all your firearms with both hands.
Skip Ritchie took my suggestions and designed the "Gaylord Cross Draw, or "GXD." The concept is based on Chic Gaylord's "Comet" holster. Gaylord was one a godfather of concealed carry holsters. After studying art in college, a stint at teaching and the public relations business Gaylord began making holsters. He didn't copy existing designs; his work was revolutionary. His Comet holster – and Shooting Star and Dragoon - were cross draw designs with a holster within a holster. When drawing, the inside section of the holster pivots, allowing the pistol to rotate forward for an easy presentation.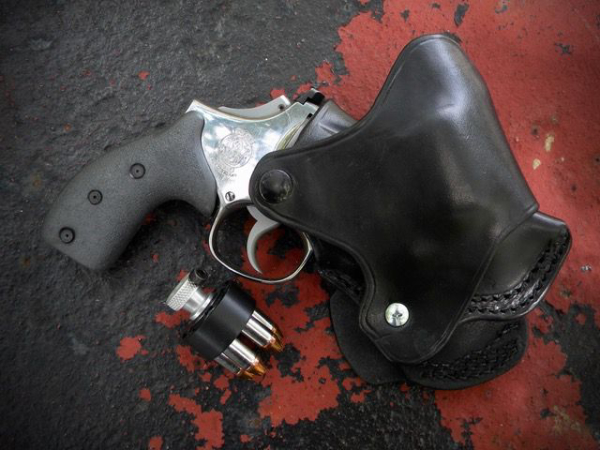 Ritchie Leather, established in 2010 by Skip and his brother Bob, sews a variety of holsters, belts and mag pouches. Skip worked many years with Lou Alessi; Bob assisted in the shop during busy periods. Alessi was heavily influenced by Gaylord. The GXD rides higher on the belt than a traditional holster. The end of the barrel is at the bottom of the belt, with frame and cylinder riding high.
The GXD is extremely comfortable, in all positions. It hangs nicely when standing, and works great for driving or sitting at a desk. It's ideal for someone using a scooter or wheelchair. It even "sits" well when lying down; I tested mine extensively on our couch.
Comfort is one thing, but more important is how well a holster conceals your weapon. The GXD Skip sent me to test is for a S&W K-frame revolver, worn on the left side of the body. For my body build, a K frame is a full-size pistol. The GXD concealed well regardless of what garment I was wearing. Plus, I can still wear my strong side holster, and both pistols are properly covered without much external "printing." I cannot wear a pistol on each hip without it showing. The GXD allows me to carry two "full-sized" pistols, still be comfortable and concealed.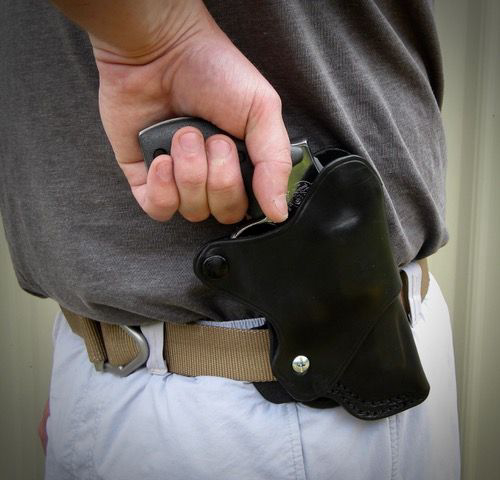 A holster's most critical attribute is the efficiency of the draw. This is where the GXD really shines. It's the only holster I've used that allows me to draw equally well with both hands. To draw with the left hand I reverse the hand, palm outward. The hand slips between pistol and body to acquire a proper grip, then pull straight up. For a right hand draw I grip the pistol and pull forward and down – the direction the hand, wrist and arm naturally want to move. The inside holster rotates forward, creating an easy, natural motion to draw. Like anything new or different it takes practice. The draw has to be executed while still keeping the muzzle pointing in a safe direction. After just a little bit of repetition I was performing a smooth, efficient draw with both hands.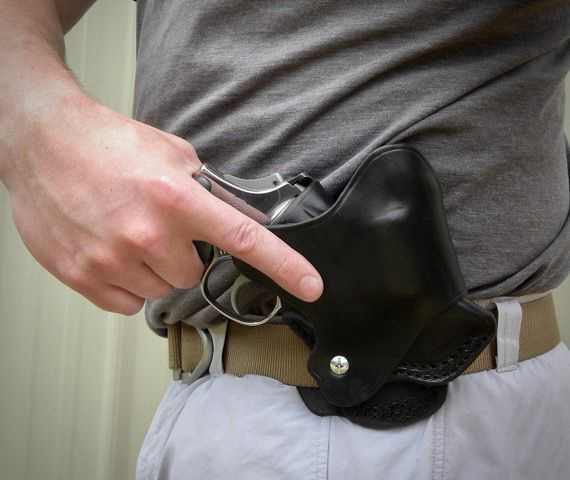 So far, I can't find anything wrong with the GXD's design and construction. It checks all the boxes: Comfort, Concealability and Efficiency. It provides a lot of versatility. You can have one for either side, carrying a backup pistol or a primary. And best of all, you can draw using either strong-hand or support-hand equally well. Plus, you have to admit, it's an attractive looking holster. Try one; I think you'll be pleased.
(Skip is offering the GXD for revolvers now, and is working on models for semi-auto pistols.)
Tiger McKee is director of Shootrite Firearms Academy. He is the author of The Book of Two Guns, AR-15 Skills and Drills, has a regular column in American Handgunner and makes some cool knives and custom revolvers. Visit Shootrite's Facebook page for other details.