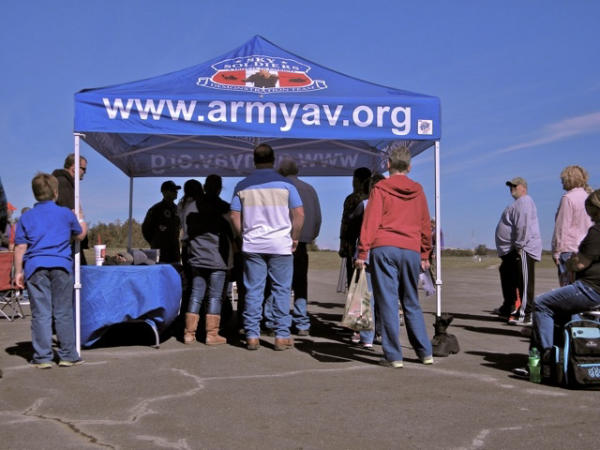 Loading in a chopper is always exciting. The blades are turning, there's wind and noise you feel deep inside your body. It's even cooler when it's a Vietnam Huey. What make it great is that it's not wartime. I'm actually buckling in during a Veterans' event about an hour away from home in Cullman, AL. There are eight of us civilians taking off for a brisk ride on a perfect fall day with the doors open.
As I mention often, one of the cool things about this job is the people you meet. They are always interesting and good folks. Mike is one of the regulars at Shootrite; he comes once or twice a year to train. He served as a helicopter pilot in Vietnam – shot down several times. "But," he told me, "Almost everybody got shot down." Now he works with the Army Aviation Heritage Foundation and Flying Museum – www.armyav.org The AAHF restores and maintains historic Army aircraft - fixed and rotary wing - from Vietnam and the Cold War. They attend air shows, fly-in's and other events to give presentations.
I've always been fascinated by helicopters, especially the ones from Vietnam. It was a great thrill to see my dad, who was in the 20th Group, flying off or landing in one of them, usually a Huey. The two-seat Bell "AH-1" – there are several variations/designations - or "Cobra" or "Snake" was fielded in Vietnam in 1967. It was America's first "gunship" – a helicopter designed for fighting, and was armed accordingly. When you look at one you know exactly what it's designed for. Today the Marines still fly a two-engine version of this copter.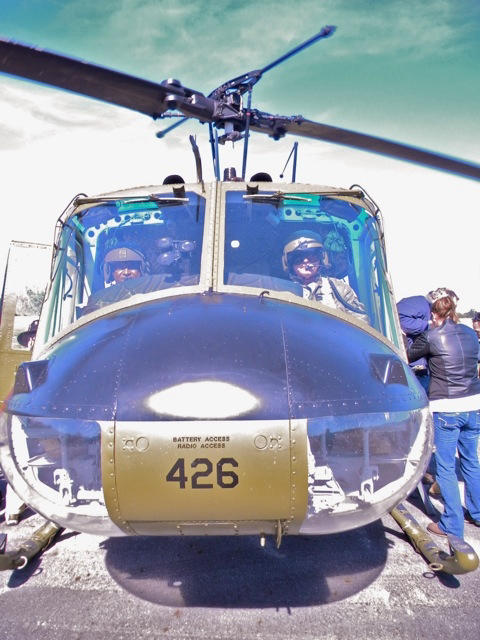 During a recent class Mike mentioned they were going to fly into Cullman, AL, for an event. "I'm there," I replied. So last Saturday I gas up the truck and head out. It's a one of those rare days when the weather is just right for this time of year. Near Atlanta, where AAHF is based, there's heavy fog that delays their departure time. There's plenty to walk around and see at the event, so killing time is no problem. Eventually I hear the blades "whoppin" and see a Huey coming in - but no Cobra. Once the crew is on the ground they explain that the Cobra had electrical problems, so one bird is all that's coming. I was hoping to ride in the Cobra, but all helicopter rides are great, so I sign in to fly in the Huey.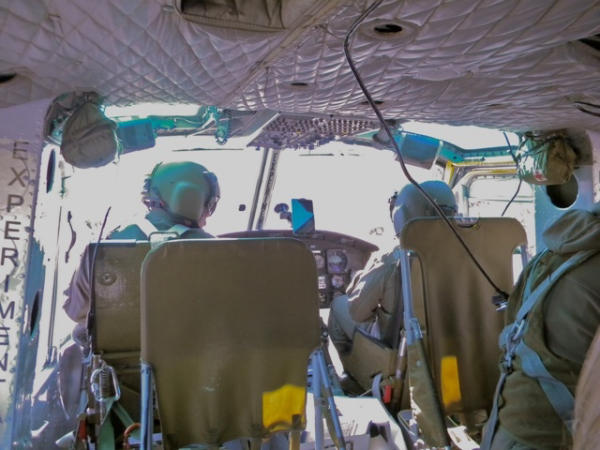 The AAHF is a non-profit organization, and they do a great job. Keeping these aircraft flying is important, for both young and old. There were small children riding, along with old and young veterans. Everyone had a smile on his or her face afterwards. I highly recommend checking their website to catch one of their appearances and to get you a ride. Any other way you can help support these men and women who work at this will also be greatly appreciated. Mike, you still owe me a ride in the Cobra, brother.
Tiger McKee is director of Shootrite Firearms Academy, located in northern Alabama. He is the author of The Book of Two Guns, AR-15 Skills and Drills, featured on GunTalk's DVD, "Fighting With The 1911 and has regular columns in Gun Digest and American Handgunner.
http://www.facebook.com/pages/Shootrite-Firearms-Academy/156608611038230?ref=ts