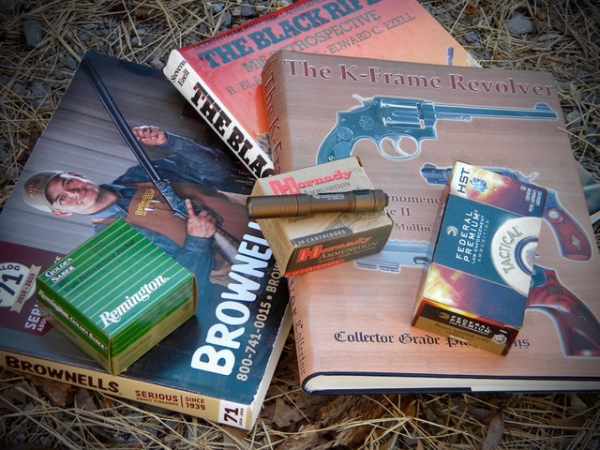 With the holidays coming it's time to think about those gifts for the gun lover in your life. Sometimes it's difficult to choose a gift for the gun enthusiast – firearms are a very personal matter. However, there are a few gifts that will be a sure fire hit with everyone interested in firearms and self-defense.
Flashlights are always a great gift. You can never have too many of them. When it comes to lights I'm a Streamlight fan https://www.streamlight.com/home . They make good gear, and considering the quality it's hard to beat their pricing. Streamlight offers a wide variety of hand-held lights, varying in size and output. Another option is weapon mounted lights. Most handguns made today are set up with a rail for attaching a light, which is perfect for home defense.
My newest favorite light is the Streamlight Microstream USB. This small light is easy to carry and features a tail cap switch with momentary or constant on operation. There's a high and low beam. At 250 lumens there's about 1 ½ hours of light. On low, 50 lumens, you've got about 3 ½ hours of light. It charges with a USB port, which means you don't have to go hunting batteries. At four inches length and about 1 ½ ounces it's easy to carry. Anyone who gets one of these is going to be happy.
Books are another good gift. For that guy or gal who is interested in firearms history and development it's hard to beat Collector Grade Publications http://collectorgrade.com . Fascinated by the history of the M1 Carbine, the S&W .357 Magnum or the Thompson's .45 sub-machine gun? Then Collector Grade has what you need. For anyone obsessed with the AR and its history, which seems to be plagued by myth and mis-information, I highly recommend their Black Rifle series. These books cover every aspect of development and production and use of the great firearms of the last century and today. They're sure to provide hours of great reading.
You can never go wrong gifting ammunition. Nobody I know has ever said, "Man, I've got too much ammo." There's practice ammo and carry ammo for self-defense. Not sure about caliber or type you need to get? Do a little snooping, find a box of ammo they already have and go with that, or ask one of their gun friends and you'll probably get more responses than you need. Plus, ammo never goes bad.
Finally, if all you know is that you're buying for someone "into guns" it's hard to beat a gift card from Brownells http://www.brownells.com . The great thing about "Big B" is that they carry anything a shooter might want or need, from equipment, tools, books and videos. They even carry firearms now, so it's a true one stop shop. This is a "can't go wrong" gift, sure to put a huge smile on the face of the recipient.
Also, remember that the holidays can be stressful. There's nothing wrong with giving yourself a pat on the shoulder and picking up a little something for all the hard work you've put in this past year.
Tiger McKee is director of Shootrite Firearms Academy, which is celebrating its twenty-fifth anniversary. He is the author of The Book of Two Guns, AR-15 Skills and Drills, has a regular column in American Handgunner and makes some cool knives and custom revolvers. Visit Shootrite's Facebook page for other details.